SUPPORT
LOCAL BUSINESSES
BEST WAYS TO HELP OUR LOCAL BUSINESSES

Order online, purchase gift certificates, or order food to-go. They need our support now more than ever. Let's come together as a community and help each other however we can.
The following list of Mt. Lebanon businesses have provided their current business status during this crisis. As things are changing quickly, please call the establishments listed here first before visiting to make sure they are still open and operating.
Also, here is a directory of Coronavirus Crisis Resources.
PHASED REOPENING CHART FROM THE GOVERNOR'S OFFICE: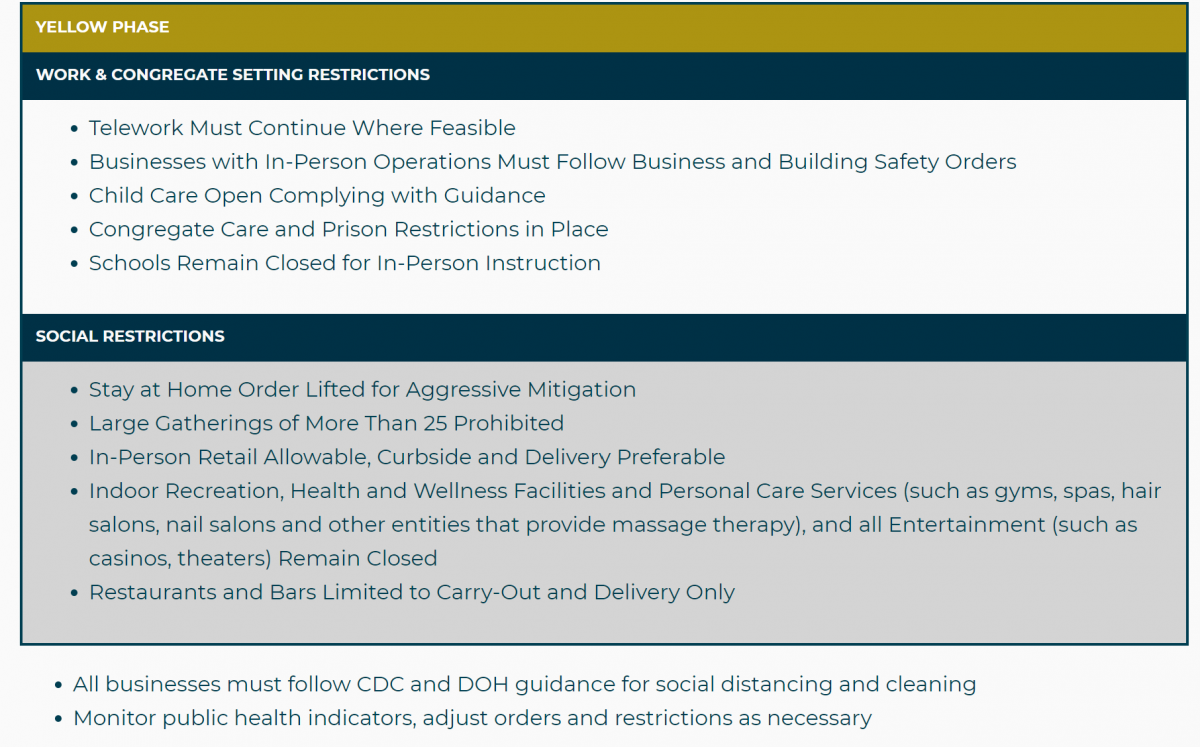 THE LIST OF BUSINESSES BELOW IS MEANT TO A BE GUIDE AS TO WHAT BUSINESSES ARE OPEN TO SERVE THE COMMUNITIES NEEDS. PLEASE NOTE THE EACH BUSINESS MAKES IT'S OWN HOURS OF OPERATION AND IT IS BEST TO CALL OR CHECK THEIR WEBSITE / SOCIAL MEDIA PAGES FOR THE MOST UP-TO-DATE INFORMATION.
RESTAURANTS

The Saloon – Open
Luma - Open for dine in and carry out for dinner from 4pm to 9:30pm Mon – Sat. Not open for lunch service at this time.
Little Nippers – Pick up and delivery; 11a – Midnight
Scoops on Beverly – Grubhub delivery 11a – 10p
Fairlane – Open for preorders. Refer to website
Kara Kakes – Open
Café Io/Io Deli – Open with limited hours and days. Outdoor seating reservations required. Take out is available. No indoor seating yet.
Bado's – Pick up and delivery 7 days a week; full menu. Beer delivery available.
Zorro's – Open for pick up
Atria's – Mount Lebo location doing curbside takeout
Potomac Bakery – Opening Friday for Easter weekend
Badamo's – Order online and by phone. Pay in advance by credit card preferred. Current hours: Wed - Sat 3 - 9pm, Sun 3 - 8pm.
Uptown Coffee – Open
Orbis – Take out available 7a-4p; Sunday brunch take out only
Coffee Tree Roasters – Take out only. 6 am - 7 pm.
Rania's – Closed. Taking catering consultations.
Lebo Subs – Pick-up only
Jade Grill – Pick and delivery
La Gourmandine - Take out
Caliente's – Take out and delivery
Sesame Inn – Take out and delivery
Mineo's – Take out and delivery
Grandpa Joe's – Taking online orders, GrubhubTake out and delivery
Simone's – Open for takeout
Fairlane – Open for preorders. Refer to website
Il Pizzaiolo – Pick up and delivery (5 mile)
Totopo – Open. 50% capacity. Reservations needed for dine-in restaurant & bar. Take out & delivery encouraged.
Thai Touch – Pick up
Arancini House – Pick up and delivery
Hitchhiker Brewing – Pick up beer sales available.
Betsy's Ice Cream – Pick up and delivery
GALLERIA
Learning Express Toys – Open 11 am – 5 pm for curbside pick up orders only
Jernigans – Order pick ups only
BRGR – 4 pm – 8 pm  CARRY OUT ONLY
Houlihans – 11 am – 9 pm CARRY OUT ONLY
Bravo – 11 am – 9 pm CARRY OUT ONLY
Mitchells – 11 am – 9 pm CARRY OUT ONLY
Panera – Closed till March 30th.
The Mall common area has limited, socially distanced public seating and mall walkers.
RETAIL
Salon La Te Da – Gift Cards Available!
Eden's Market – Open
Rollier's – Open seven days a week. 9 am - 5 pm.
Majestic Nails - Open. Visit their website for hours.
Salons – Are operating at limited capacity Call ahead to confirm.
Empire Music – Retail shop closed. Online/phone sales and curbside instrument repairs available.
Lee Heckman Custom Framing – Open Tue to Sat, 10 - 5 by appt only. All customers are required to wear masks.
Blooming Dahlia – Flower deliveries; however, not to hospitals/senior centers
Elusive Auto Shine – Open by appointment
Bill Few – Office Closed. Clients may call/email.
You're Invited Stationary – Open Tue to Sat 11 a.m. until 5:30 p.m. and other times by appointment. Closed Sun and Mon.
Vinyl Remains – Open
Suburban Dry Cleaners – Open
Playtowne Square – Open for retail toy sales. Online or phone. Curbside Pickup
Sandra Ward Art Studios – Open for student (ages 6-18) and adult art classes.
Boost Pgh – Open
Mecka Fitness – Open
Chiani Person Rugs – By appointment only
Dr. Chiani – Emergency dental appointments only
Roots Chiropractic (Castle Shannon Blvd) – Reopening Friday, May 15th.
Uptown Dental – Open
Anne Gregory for the Bride – By appointment only, limited to three guests.
Banking – All banks that I have been in contact with are open.
HOSPITALITY
Springhill Suites – Open for business. 412.563.6300