The Mount Lebanon Partnership wants to support our local businesses in as many ways as we can. To that end, we have provided links to multiple reliable sources of information in this fast moving crisis.

This web portal contains great information and resources to reopen safely, effectively and sustainably for everyone in our community. Click here.
FINISH 2020 STRONG
Real Sales Solutions
Attention local small business owners! Mt. Lebanon Municipality and the University of Pittsburgh's Small Business Development Center are hosting a free workshop just for you! The two workshops are offered from 8 a.m. to 9 a.m. and from 6 p.m. to 7p.m. on Wednesday, October 28. Sessions are free, but registration is required!
REGISTER HERE.
PROCESS TO REOPEN PA

1. Process to Reopen PA — The Process to Reopen PA is a direct line of information from the Governor's Office.
2. CDC Guidelines for Business Owners — This is a link to the CDC's website on guidelines for business operations.
3. CDC Guidance on Preparing Workplaces (COVID) — This downloadable document offers CDC guidance on how to prepare your workplace for reopening.
4. PA Chamber of Commerce "Bringing PA Back" — The PA Chamber of Commerce offers a clean portal into information + resources you will find valuable as we contain our march to a return to business.
5. Allegheny Conference Back to Business Webinar — This link provides access to a webinar discussing getting our businesses back in operation in Allegheny County.
PHASED REOPENING CHART FROM THE GOVERNOR'S OFFICE:
For more information click here.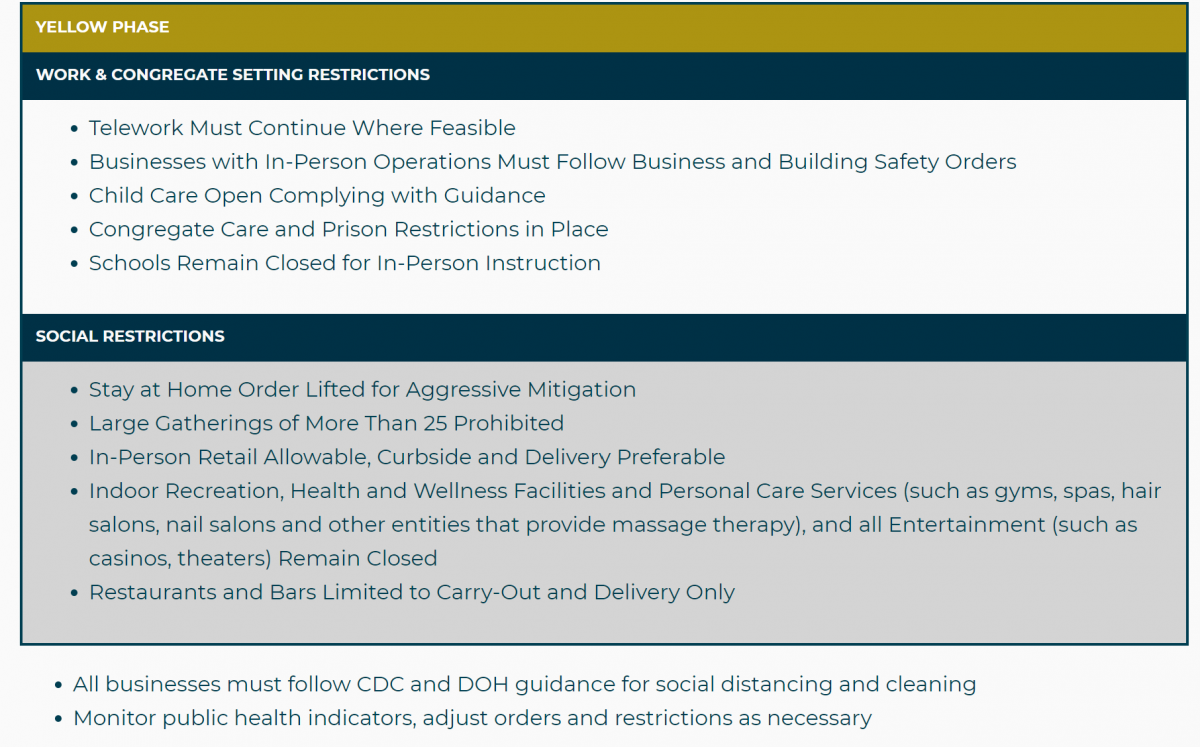 PPP Loan Forgiveness
Forbes Magazine PPP Loan Forgiveness Q+A

Commonwealth of PA Assistance
Information from the Commonwealth. This is a comprehensive clearinghouse of information. Please note that there is a link dedicated to businesses: https://www.pa.gov/guides/responding-to-covid-19/
Covid-19 Working Capital Access Program (CWCA) – This is a loan program to assist with working capital needs. $60M has been moved to this new program. Businesses can apply this week. The loan must be applied for through a certified economic development organization (CEDO). In southwestern Pennsylvania, that would be the Pittsburgh Economic and Industrial Development Corp., the Regional Industrial Development Corporation of Southwestern Pennsylvania, The Progress Fund, North Side Industrial Development Co./Riverside Center for Innovation, or the Southwestern Pennsylvania Corp. From what I have been able to determine you can reach out to any of the five (5) CEDOs charged to Allegheny County. Following are helpful links to understanding if this program is right for you:
CWCA "Cheat Sheet" –  Covid-19 working capital access program factsheet
CWCA Overview + Guidelines – Covid-19 working capital access program
Certified Economic Development Organizations (CEDOs) in Allegheny County – Link to CEDOs
CWCA Article – Pittsburgh Business Times  / Wolf rolls out 60 million small business assistance

Rumor Control – Allegheny County Health Department COVID-19 Rumor Control

Small Business Development Center(s) – SBDC. SBDCs are always an amazing resource. Now more than ever. Please follow this link to find an exhaustive menu on how to find loans, grants, tips to weather this disaster. Check back often to this link as resources are developing daily: http://entrepreneur.pitt.edu/business-resources-covid-19/

Chatham Center for Women's Entrepreneurship – https://www.chatham.edu/cwe/

Crowd Lending Opportunities
We do not endorse any bank or provider, but we want to bring them to your attention. One company that is Pittsburgh-based is Honeycomb Credit. They have just rolled out an innovative new program called Loyalty Bonds and it appears to be a win-win for the business and customer. It is a like a gift card program, but modified. Here is the link to that program: Loyalty Bonds
Kiva Pittsburgh is another crowd-funding resource one can explore. Click on the previous link to explore their offerings.

List of Businesses Permitted to Stay Open in Pennsylvania: Life Sustaining Business List (download PDF)