We have our 2019 Winners! Enter for 2020!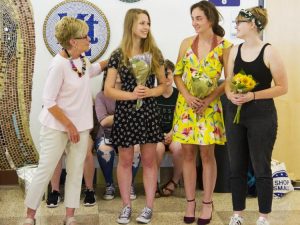 This year, the talent was so amazing our judges couldn't pick just one winner so they chose three! See the story as reported here in The Almanac.
Mt. Lebanon Artists' Market Scholarship
Details and Rules
Due to the success of the 2019 Mt. Lebanon Artists' Market Raffle and the generosity of Mt. Lebanon residents and business owners, we would like to recognize the talent of a Mt. Lebanon resident graduating in 2020. We are offering a $1000 scholarship for a graduate who will be attending an accredited higher education art program in the fall of 2020.
A distinguished panel of judges will review all applications and after careful consideration select one student to receive the award. Judging will be based on the following criteria:
Talent
Creativity
Originality
Future art plans
In order to be considered for this award, you must submit:
Five jpegs of work that illustrate your talent and skill set (including the piece you use for your essay);
A one-page essay explaining most or all of the following:
Why does this piece have personal significance to you?
What were the highlights, discoveries, and setbacks that accompanied the experience of creating this piece?
What did you learn from this process?
Was this one of your favorite mediums? Please explain.
Has this piece provided inspiration for your future work, and if so, in what way(s)?
Upon completion of the judges' review, finalists will be asked to attend an interview. At that time, each individual will be asked to bring the artwork from the essay. Please note that financial need is not a requirement. Additionally, each finalist must bring a letter of acceptance from the institution he or she will attend.
Please submit all of the above and the information form by April 15, 2020. Entries must be emailed to info@mtlebanonartistsmarket.com.
Become a Patron of the Artists' Market and support our student scholarships!
The Artists' Market is an event of the Mt. Lebanon Partnership, a not-for-profit 501c3 organization, and is always looking for community support. The student scholarships awarded each year are generously donated by art lovers in the region. If you would like to contribute to these artistic endeavors you can make a donation here using Paypal.